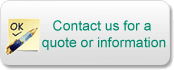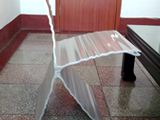 Our extrusion die design experts will provide our customers with the best design, high quality die and maximum yield. Due to optimized design, each
die can provide the best shaping at minimum cost.
Our in-house die cutting factory is characterized as professional in
sophisticated shape design, high precision die cutting, heat treatment of the
die and high one-trial success rate. Our die is of long service
life, high extrusion yield and competitive in cost.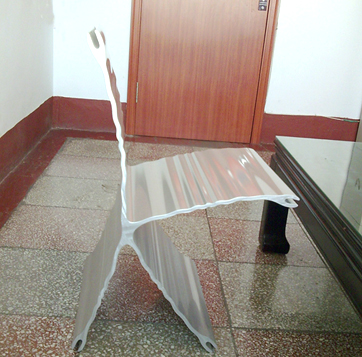 This chair shape extrusion is a one-piece extrusion profile extruded from our
100MN extrusion press. It is extruded for the spectator stand seats of the Stadium
for the London 2012 Olympic Games. Its size is exactly the size of a real chair, about
800mm (31.496") high and 508mm (20") wide. With this giant press, it is possible to make a chair in one whole piece, without further welding or fabricating, due to its large outlet opening and large extrusion billet.
The 100MN extrusion press is designed to make large section aluminum extrusion profiles, with longer length up to 30 meters, wider width up to 914.4mm (36"). One
piece extrusion profile has the following merits:
1.It can save further welding and joining work: In actual application of
aluminum extrusion profiles, the parts are often required to be welded together to
make a functional structure or parts. With larger and wider extrusion section, the
welding process can be substantially reduced or saved, and some time the
welding cost itself will be more expensive than the extrusion parts.
2.With whole piece extrusion, the extruded part will be more solid and stronger
than welded parts. Arc welding seam may crack or leak but extruded part will
not have such problem. It will remain intact and sound through out its service life.
3.Cost efficient: aluminum extrusion profile of large section and size will be more
economic than welded parts of smaller size. The extrusion die is only one time
investment and it will extrude as much as needed without further money input.
4.With high extrusion pressure of 100MN from this giant press, the extruded
aluminum parts will be more compact in its inner micro structure, grain size will be
more even and mechanical strength will be more consistent in its entire length. It will
contribute to longer and stable condition of the extrusion products in its whole
service life. Products made from such extrusion parts will be more durable in its
application, tougher in structure and more reliable in its usage.
5.Matched with 30 meters long aging furnace, 18 meters high vertical
quenching furnace and 2000T stretcher, our 100MN extrusion press line can make
solution heat treatment to heat-treatable alloys and stress relieving treatment, to
bring 2xxx, 6xxx and 7xxx alloys into T6511 tempers, which can guarantee the
strength, hardness and machinability of the extrusion products.